At Spectacle Culture, your vision is our mission
Combining expertise and experience with state-of-the-art technical equipment, our team of certified optical specialists ensures that each and every customer receives professional and dedicated eye-care consultation and attention.
At Spectacle Culture, your beauty is our duty
From bespoke spectacles to express lenses, haute couture frames to heavy-duty aviators, trusted brands to independent labels, our team of eyewear experts presents only the latest in the world of necessary accessories.
What you get is an Eyewear & Eye-Care Ecosystem that takes care of your entire visual-wellbeing.
Showcase Maverick
Our customers come to us not because we have everything, but because we will always give them something. Every quarter, our feature display wall prominently displays a single eyewear-maker, fully showcasing a brand and its range. Meanwhile, a curated collection of independent and eclectic brands are lined-up. This way, the brands we carry receive representation and customers get a full range of eyewear & eyecare information strategically organized to help them make their decisions – a unique feature that sets us apart from the display-cluttered chain stores.
Service Intelligent
Backed by more 2 decades of expertise and an unwavering commitment to customer service excellence, a truly and fully immersive shopping experience awaits the Spectacle Culture customer.
Founder of Spectacle Culture Benn Tan devotes himself and his team to keep abreast of technology updates, best practices, and customer management to fully deliver an end- to-end service experience that will forevermore redefine the industry-standards of customer service excellence.
Benn Tan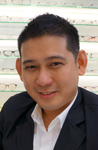 Benn has been a practicing optician for more than 20 years.
A graduate Optician, Benn served an extensive apprenticeship with a locally renowned specialist before fully immersing into his role as Optician. Benn is licensed by the Optician Optometrist Board Singapore, and certified by leading lens manufacturers, Hoya of Japan, Carl Zeiss of Germany and Essilor.
Today, Benn – assisted by certified optician – Adelynn Sim, heads Spectacle Culture @ Nankin Row – An Eyewear and Eye-care boutique committed to provide friendly and professional services to the urbanites of Singapore and beyond.
Adelynn Sim
Adelynn has been a practicing optician for more than 15 years .
Adelynn met certified optician Benn Tan, when they were both practicing opticians at a locally renowned eye-care specialist. They are happily married today. Together, this husband and wife team brings more than two decades of optician experience to Spectacle Culture.
Their combined network of customers include top surgeons, celebrities, CEOs, etc. who have personally signed-off on their professionalism.