IF YOU ARE HAVING AN BAD EXPERIENCE WITH YOUR PRESCRIPTION SUNGLASS OR YOU ALWAYS THINK THAT ITS TOTALLY IMPOSSIBLE TO GET YOUR EYE DEGREE MADE TO A SPORTY SUNGLASSES… DONT WORRY, WE HAVE A SOLUTION FOR YOU.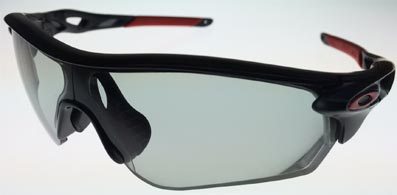 Over the past 40 years, CR39 and polycarbonate lenses were the only plastics for lenses available for sport glasses. However, we have a more high impact resistant than polycarbonate lens and with the same high optical quality as CR39 lens…. NXT material. This lens is part of a US military super light protector project. NXT was trailed under bullet impact testing and showed no signs cracking or surface strain and yet still provided clear visibility. Its also strong/resistant to chemical and acids. A chemical test proved that NXT is not damaged by common everyday household chemicals such as acetone and alcohol.
Mass tinting production avoids colour loss and makes different photochromic versions possible.
Unlike standard surface tinted color lens, NXT uses confined tint casting technology to color the lens and does not fade or lose color from small scratches through everyday use. UV absorbent material is also mixed in the NXT polymer to permanently cut over 99.99% UV rays. For RX version (made to prescription), only the clear concave parts of the lens are polished which do not affect the dyes or photochromic molecules. This unique tinting process make fully functional sunglasses.