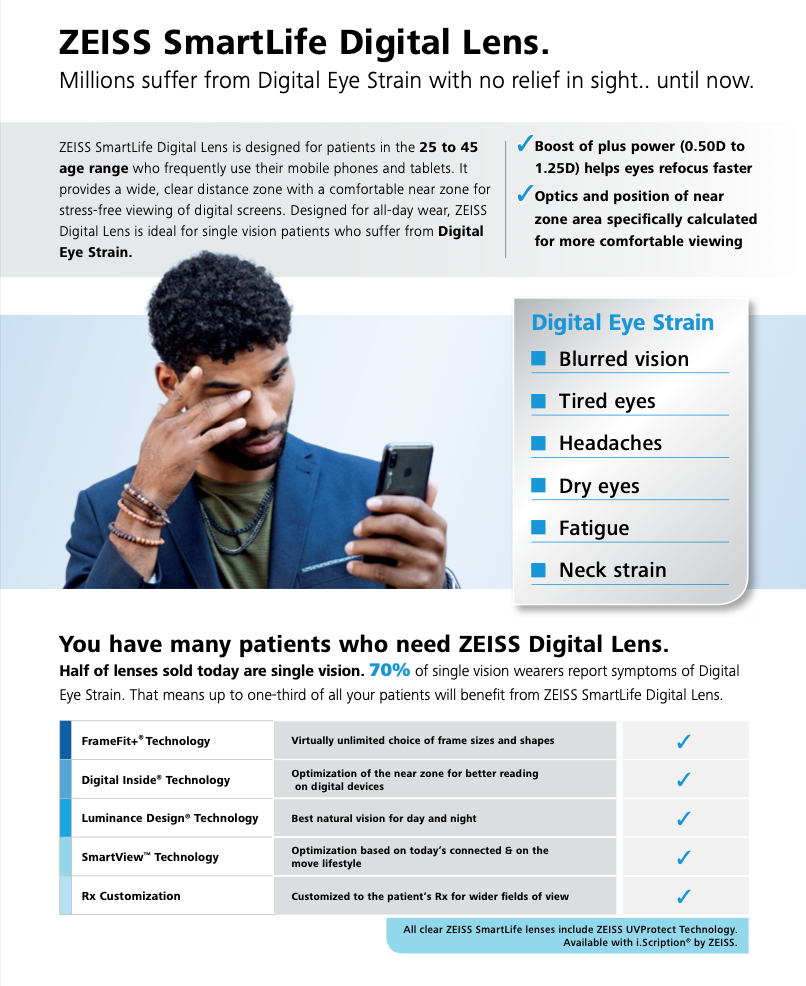 ZEISS SmartLife Digital Lens is designed for patients in the 25 to 45 age range who frequently use their mobile phones and tablets. It provides a wide, clear distance zone with a comfortable near zone for stress-free viewing of digital screens. Designed for all-day wear, ZEISS Digital Lens is ideal for single vision patients who suffer from Digital Eye Strain.
ZEISS's in-depth understanding of visual behavior and visual habits has been incorporated into the design philosophy
of the ZEISS SmartLife Portfolio. The Portfolio is divided into three categories: ZEISS SmartLife Single Vision, ZEISS SmartLife Digital and ZEISS SmartLife Progressive Lenses, all with further optimization based on age-related visual needs.
This complete portfolio serves a wide range of consumers (20 years and up), addressing their visual needs now and in years to come.
A comprehensive consumer acceptance test was conducted by the Aston University's School of Optometry in the UK. Results show a high level of customer satisfaction with ZEISS SmartLife lenses.
https://www.zeiss.com/vision-care/en/need-new-lenses/smartlife-single-vision-lenses.html?vaURL=www.zeiss.com/smartlife