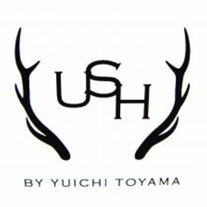 USH
Under Spiritual Horn
Ush brand name comes from the first letter of the spirit of the brand.
Completely original design, traditional Japanese handmade glasses fabrication techniques,
USH glasses chapter the a whole full page in the 21st century.
USH glasses are handmade by one of the best craftsmen in Japan, Yuichi Toyama. He is a great man with unlimited ideas. Most of his collection are always create with a character. Compare from normal design, he dare to pursuit odd and stylist setting in his individual collection. Frames are made of titanium and acetate which guarantees the highest durability, light and best in wearing comfort. Every details are precise and brilliant. If you are looking for something exotic and unconventional, chose USH, a glasses that show your personality self.
Showing all 10 results