PRESCRIPTION with POLARIZED and MIRROR COATING LENSES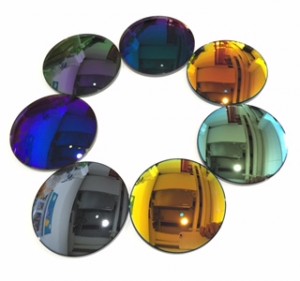 Ever wonder why sunglasses with polarised and mirror coated can't be made for all type of prescription wear.  We always think that we should also benefit from this. Don't worry for now, it can be done even with high prescription degree.
Mirror or polarised lenses are good for situations that require a reduction in the overall brilliance of light, such as sunlight on snow. They reflect light away from the eye (beyond the standard absorption of a tinted lens) which is ideal for people who are light-sensitive.
Mirror is applied to the surface of the lens only, it gives the lens a shiny mirror-like appearance that reflects rays from surfaces such as water, snow and ice. They are typically applied in combination with an underlying sunglass tint. Metallized coatings offer fashion versatility because they can be applied as flash mirrors with only a blush of reflectance, as full mirrors that mask the eyes or as gradient mirrors.
The density of the mirror coating determines how much light it reflects.  Half-silvered mirror coatings have an even coating of reflective particles across the surface of the lens, but the particles are spaced so about half of the light striking the lens surface hits a coating particle and is reflected.  The remaining 50% of visible light striking the lens passes between the reflective particles.  Some of this light is absorbed by the underlying lens tint.  The remainder passes through the lens to the eye.
Mirrors are available in several basic styles. Solid mirrors are a classic sunwear look, especially in silver, gold and blue. Gradient mirrors being the densest at the top of the lens, and then fading to nothing at the middle of the lens provides maximum shading of overhead sunlight, while allowing more light to pass through the middle and lower parts of the lens. This is beneficial for drivers and cyclists or people who like to read outdoors. Double gradient mirrors are also functional. They are dark at the top and the bottom and lighter in the middle. Double-gradient mirror coatings are an excellent choice for snow skiing and other winter activities because they provide excellent protection from both overhead sunlight and light reflecting off snow on the ground.
What technology can do now are to comply both mirror and polarised features on prescription lenses.
Do visit us to test on the lenses. Always can let us know your needs and we can advise for the best use for you.